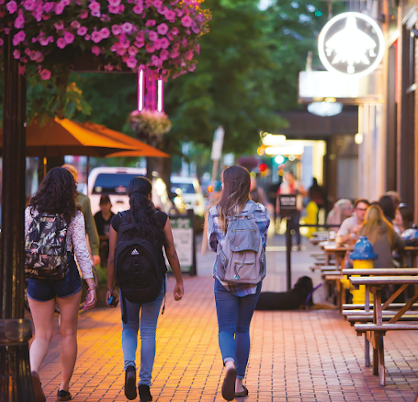 There's something special about Eugene—or, actually, a lot of somethings.
Experience our arts and culture, music and nightlife, abundance of locally grown food, or simply get outside and enjoy the (usually) mild weather. This place feels familiar and friendly, and it's most definitely green. From the moment you arrive, you'll feel right at home.
The Pacific Northwest
Where we are has a lot to say about who we are
This is our ecosystem. We're immersed in nature. It inspires us. It informs our decisions and our innovation. The first recycling bills were drafted here. No surprise—sustainability is in our DNA. So is good coffee and fresh, locally grown food. Active isn't an afterthought, either. It's part of our lifestyle. We run on Pre's Trail, bike to school, and roll along 13th Avenue. We trek through forests, climb up rocks, ski down mountains, float on water, and play along the beaches on the weekends. This is where you come to explore, lean into life, be anything you want.
48%
of the state covered in forest
363
miles of scenic coastline
24
mountain peaks over 8,200 feet