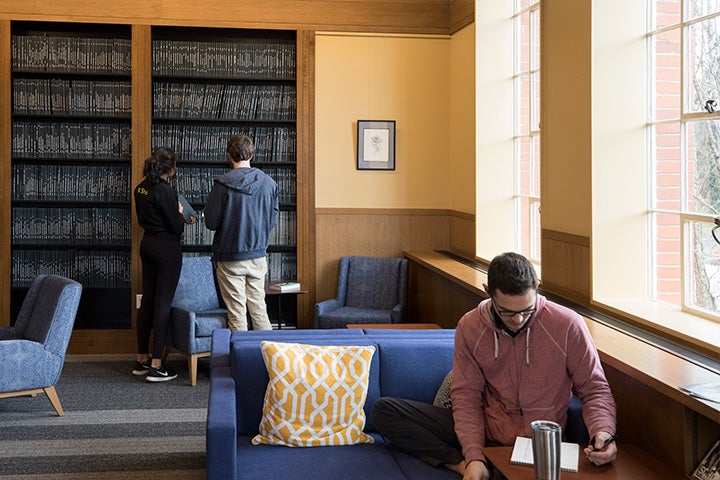 Putting it into practice
Your thesis project lets you decide what to study. It gives you the chance to explore questions, solve problems, create art, conduct original research, and also create samples of professional work that are unique to you. Grounded in your academic area of interest, your thesis can be a scientific paper, a piece of music, a marketing plan for a proposed product that you designed, a collaboration with community organizations, or something else specific to your interests. In the process, you will develop and refine skills employers and graduate or professional schools value.
Photo: Honors College students in the Shephard Family Library in Chapman Hall.
An average of
16
students per class, all taught by a professor
92%
of honors college students receive financial aid
21%
of Honors College students pursue more than one major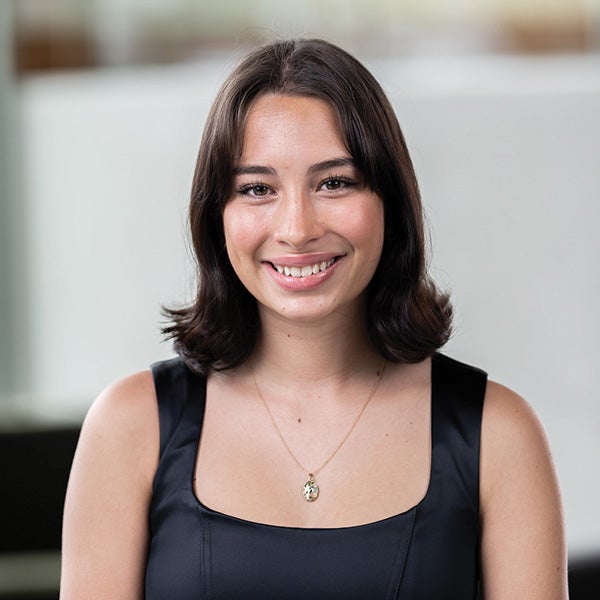 Kali De Saint Phalle
Majors: Biology; Political Science minor
Hometown: Ashland, Oregon
It took some time for first-generation student Kali to get comfortable with the ins and outs of college life. So when she was handed the reins of an informal first-gen student club, Kali jumped into action. Using her political science savvy, she's working to create programming to help other first-gen students navigate financial aid and scholarships, understand their rights, connect with mentors, and ultimately find their place. Up next? Law school, where she hopes to focus on mediation and conflict resolution to help others through tough times.
Catalytic Learning
Research Internships Complete a summer internship at Oregon Health and Science University, one of the most prestigious medical schools in the country. Two spots are reserved for honors college students every year.
Speech, Debate, and Mock Trial We've competed against hearty competitors such as Yale and Harvard, winning national titles in the process. You'll learn to think deeply, communicate clearly, and never stop questioning.
3 + 3: Six Years To A Law Degree Honors college students who meet the requirements are guaranteed admission to the UO School of Law. You'll start graduate courses while finishing your thesis, shaving a year off the typical path to a J.D.