"Being a part of a lab at the UO exposes undergraduate students to all aspects of research, from the experimental design to technical experience in collecting and analyzing data–some of them even get published."
 
–Mike Hahn
Foundations in Research
Participation in research is a vital part of the undergraduate experience at the UO. Research experiences allow our students to explore and clarify their academic and professional goals while developing critical thinking and important workforce skills.
The Center for Undergraduate Research and Engagement (CURE) further supports the UO's culture of inquiry, with a focus on faculty-mentored projects. CURE works closely with the Undergraduate Research Opportunity Program, helps to infuse research into curricula, and works to showcase undergraduate research across campus and around the state.
Right now, UO undergrads are working on hundreds of research projects, including:
measuring muscle activity to control robotic prosthetic feet
unearthing stone tools in eastern Oregon and analyzing the 7,500-year-old projectile points to chart the movement of ancient peoples
creating algorithms to help researchers at the Large Hadron Collider in Geneva sift through the trillions of "interactions" that happen in a proton collision
exploring the effects of the gut microbiome on cancer and other health risks
retooling software to take advantage of the next wave of high-performance data processing
installing seismographs that monitor the Cascadia subduction zone
mapping the floor of the Aegean Sea to reveal faults and landslides to help predict geological activity
25%
of UO seniors have done or are currently doing research with a faculty member
80%
of UO students have done a research project or paper as part of their coursework
What's next?
If you envision graduate school in your future, four of our science programs—biology, geography, physics, and psychology—are ranked within the top 16 percent in the nation, based on the most recent National Research Council's Assessment of Research Doctorate Programs. We also lead the state in chemistry, geology, and math.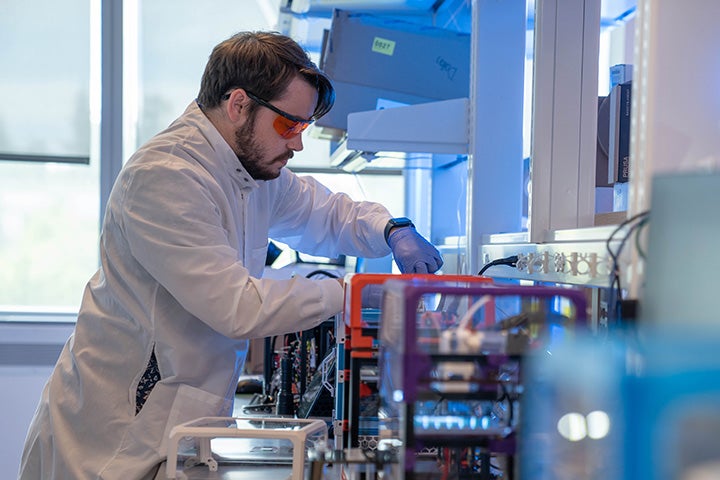 Ready for Impact
At the Phil and Penny Knight Campus for Accelerating Scientific Impact, teams of scientists, researchers, and students are creating new opportunities in bioengineering and life sciences. They're driving groundbreaking scientific research, developing new technologies that improve the human condition, and providing hands-on training that equips the next generation of applied scientists with the skills to tackle real-world problems.  The more than 180,000-square-foot first building is home to researchers tackling challenges such as osteoarthritis, Parkinson's Disease, spinal cord injuries, macular degeneration, and more.
Photo: Student researcher in the Dalton Lab of the Knight Campus.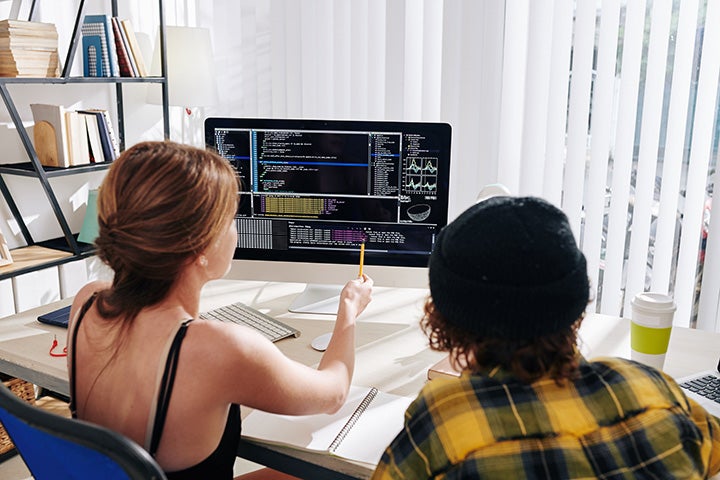 Meaningful Insights
Data science tells a story that can bring impactful change to the world. It allows you to investigate the information around us and find solutions to common problems. This field holds the key to the future of global business and innovation.
At the UO, students choose one of twelve areas of interest for their research. Whether they choose AI-Assisted Decision Making, Computational Biology, or Social Justice and Data Science, they will be learning ways to impact today's world. They may also engage in the Data Science Club, internships, and study abroad to deepen their experiential learning.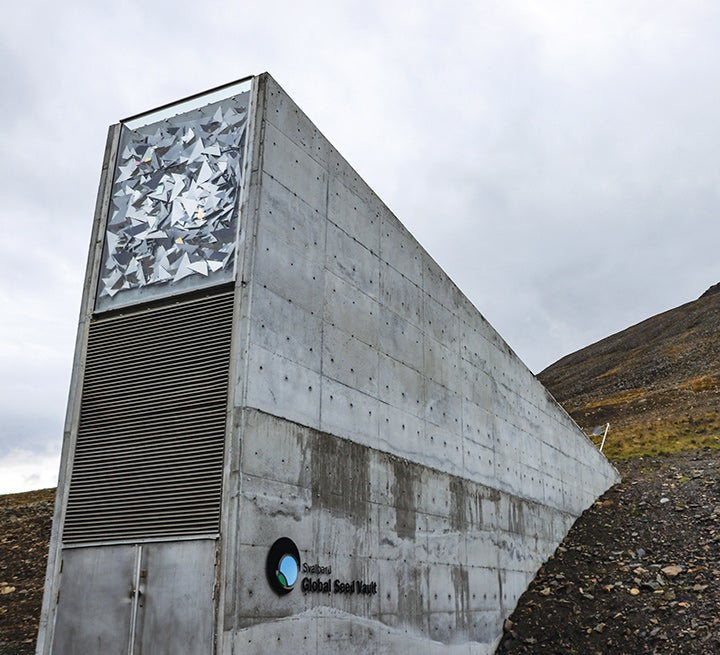 Global Discoveries
GEO offers more than 300 programs in 70 countries spanning from more traditional classroom experiences to research, internships, and service learning. And with numerous scholarships available, the world is within reach. Explore the wide range of options and search by cost, location, length, subjects, and program types on the GEO website.
Photo: The Svalbard Global Seed Vault holds the world's largest collection of crop diversity, built to withstand the challenges of man-made or natural disasters. 
STEM Scholarships
In addition to general university scholarships, the UO Scholarships for Oregon Scientists program provides awards to incoming students majoring in
chemistry
,
biochemistry
, or
physics
. The College of Arts and Sciences also offers many major-specific scholarships.